The twins are back in Transylvania!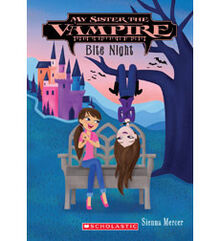 Olivia and Ivy have been invited to a royal vampire wedding. A beautiful castle, famous vampires, the wedding of the century-this trip is sure to be incredible! Transylvania isn't all black-tie bats and wedding bells, however. Ivy is supposed to be scoping out famed vampire school Wallachina Academy. Attending this boarding school could be an amazing opportunity, but Ivy's not sure she wants to go somewhere her human sister, Olivia, can't follow.
Olivia and Ivy's tenth fright-time adventure. The twins are back in Transylvania for Prince Alex and Tessa's wedding, and to settle Ivy in to the Wallachia Academy. Plus they've landed the juicy job of reporting on the royals' big day for VAMP magazine. Exciting! But Olivia's pining for Jackson and, to make matters worse, wherever she turns she's confronted with happy couples! She struggles to overcome her feelings until distraction comes in the form of an old feud that threatens to spoil the happy couple's day...